Steal Her Style! Zendaya Edition
4 Key Jewellery Trends from Zendaya's Red Carpet Looks.
You'd have to be living under a rock to have missed the force of nature that is Zendaya. Her career has gone from strength to strength since her child-star days at Disney – her scene-stealing role as Rue in the HBO-hit Euphoria even established her as the youngest recipient of a Lead Actress award at the Emmys.
She's also emerged as a fashion icon, and she absolutely owns it on the red carpet. Her bold choices and unique stylings make her a fun one to watch. She's even won a Visionary Award for her efforts in promoting diversity in fashion and film – very cool Z!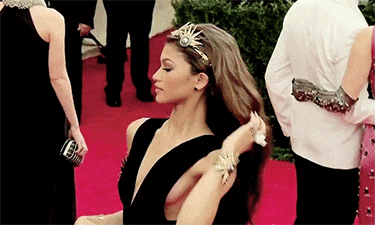 In celebration of her iconic style, we've put together our 4 top tips for re-creating her red carpet looks. Ready? Let's go!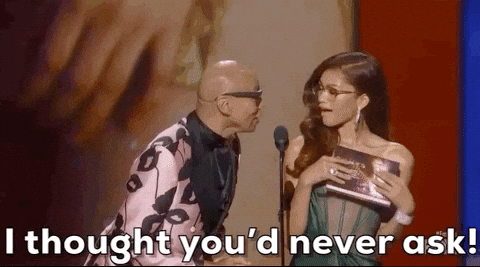 1. Chunky Gold Accessories
The bolder, the better.
Zendaya has made no secret of her admiration for 70s styling – she even took inspiration from the decade for her capsule with Tommy Hilfiger. She's often seen on the red carpet sporting statement gold accessories – frequently selecting pieces with 70s-inspired designs. Think textured drops, large hoops, chunky bangles, and thick collar necklaces.
To replicate this look, choose monochrome gold accessories that pack a styling punch. Don't shy away from chunky profiles. Sometimes, bigger is better!
For this look, just choose one or two pieces. This keeps the styling elegant, despite the chunky jewellery.
2. Statement Earrings
Let your ears do the talking!
You can't really go wrong with statement earrings! Zendaya favours earrings with large profiles, and she often wears statement earrings as a finishing touch. She'll pair them with simple dresses to create contrast and give her look that wow factor.
For a more formal look, statement earrings with crystal embellishments really lend that luxury finish. Zendaya wears them with loud outfits – and by limiting her jewellery to a single pair of statement earrings she maintains balance.
For this look, choose earrings with large profiles and bold stylings. To recreate the lustre of diamond pieces, opt for cubic zirconia or diamond simulant pieces. They feature genuine lab-created crystals which are designed to emulate the depth, colour and clarity of true diamonds. If you're sporting a more understated outfit, colour-match your dress with ornate earrings that have both statement and dainty elements.
3. Statement Jewels
More is More
Largely owing to her partnership with Bvlgari, Zendaya often sports jaw-dropping jewels on the red carpet. The necklace she wore to the Oscars last year famously included over 238 carats of diamonds! While this is a tough act to follow, replicate the look with cubic zirconia or diamond simulants. The necklace she wears is comprised of two pieces – a choker and a longer pendant piece. Choose a chunky choker and layer it with a longer pendant to emulate it.
Zendaya doesn't shy away from colour either! Here, she wears a bold emerald necklace and ring to complement and contrast her neutral dress.
Playing with colour is a great way to add depth and dimension to your overall look. Choose pieces which complement your outfit and to channel Zendaya's style offset an outfit with simple stylings by pairing it with statement jewels.
4. Dainty Stacking
Fine pieces, big impact.
It's not always about statement accessories – Zendaya also wears dainty diamonds for a softer look. This look is all about stacking and creating a stand-out look with the overall effect of multiple smaller pieces.
To recreate it, choose a pair of understated crystal studs or smaller drops. Pair them with a chic tennis bracelet, and if you're wearing something with a lower neckline select a dainty choker or necklace with crystal embellishments. Finish the look with crystal-embellished rings.
Make sure all your jewellery features the same coloured setting (silver, rhodium, gold or rose gold) to keep the effect clean and classic.
There you have it! Now you've got all the tips you need to rock your next formal event with a touch of Zendaya's signature style.
With love,
Lovisa