Must-Haves for Graduation 
Graduation day is a milestone for the memory book! Whether you're prepping for your high school, college or university graduation – commemorate your hard work and achievements with a gift for yourself or your loved one.  
From the ultimate graduation gifts to sentimental pieces to wear on the day, we've created a graduation edit with pieces perfect for celebrating success!  
Feel special at your graduation
Graduation is a momentous moment in our lives that represents years of hard work and growth, so why not spoil yourself? Pick out a meaningful piece of jewelry to mark the occasion, or browse our collection of premium pieces to compliment your graduation outfit. 
In need of some accessorising inspiration? Here are some recent graduates who gave their graduation outfits extra sparkle with Lovisa pieces. Once you've donned your cap and gown, don't forget to tag us in your #MyLovisa moments over on our Instagram.  
Pieces to compliment your graduation outfit
Embody sophistication at your graduation with our collection of premium, gold-plated pieces. Compliment your cap and gown with some accessories that will help you feel elegant while receiving your hard-earned diploma.  
Gold-plated jewelry has a timeless quality that can refine any outfit. From staple pieces like solid signet rings to embellished styles with freshwater pearls, cubic zirconia crystals or fine detailing – there's something special for every graduate.  
Personalize your graduation look and accessorize for the occasion with a simple gold-plated pendant necklace, set of elegant drop earrings and a stack of signature rings to finish off your outfit. 
Explore premium pieces from our Gold Plated and Boutique Collections for pieces to complete your graduation look.  
Shine like a diamond on graduation day 
If shining bright on graduation day is your goal, explore exquisite jewelry pieces from our Cubic Zirconia Collection. Show off your brilliance with our wide range of captivating pieces, encrusted with crystals that mimic the same cut and clarity as real diamonds – what's not to love? 
Opt for our collection of stunning jewelry sets, or pick out your own jewelry combination with our wide range of bracelets, earrings and pendant necklaces. Mix and match a set of cubic zirconia stud earrings with a glamorous cuff bracelet or reflect your inner radiance with a pair of crystal statement earrings for a lasting impression.  
Gifts for Graduation

Celebrate your loved one's milestone with a gift that is as sentimental as it is stylish! Explore our collection of premium, gold-plated pendant necklaces from our bestselling Initials Collection. 
Gifting a meaningful memento is a great way to show your support and appreciation to the graduates in your life. Our gold-plated initial pendants can be worn every day and cherished for years to come!  
Visit our Initials Collection here and pick out a pendant that best suits their style! Choose from our classic Rectangle Pendant Necklaces or opt for our Bamboo Pendants for a more detailed option.  
 Gifts personal to your loved ones 
Pick out a graduation gift that beautifully encompasses your loved one's unique personality with pieces from our Zodiac Collection. Jewelry from our bestselling Zodiac range is designed especially for astrology enthusiasts and is perfect for gifting. 
From premium pendant necklaces to stylish ear stackers, we have a wide range of options to suit every star sign. Let your loved ones proudly show off their stars to the world with these must-have pieces, sure to be a staple in any jewelry collection!  
Explore our collection of horoscope pendants and ear stackers here for more.  
Premium gifts to surprise your loved ones
If you want a graduation gift with 'wow-factor,' look no further than our Premium Gifting range. This collection is designed with pieces that will leave a lasting impression, including statement cocktail rings and necklaces crafted with diamond simulants and cubic zirconia crystals for a dazzling finish.  
Show your loved ones just how much they mean to you with a stunning piece of jewelry they can wear to their graduation, or the afterparty and beyond. Each premium piece of jewelry has a cocktail-like quality that's perfect for events and special occasions. 
Explore our Premium Gifting for more 'wow-worthy' pieces.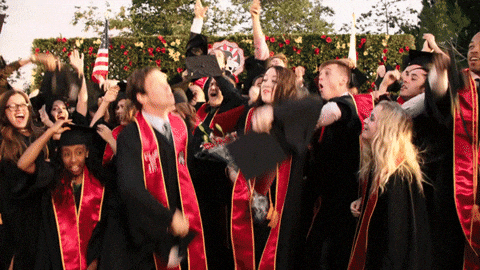 If your graduation, or the graduation of a loved one is around the corner – congratulations! Don't forget to tag us in your graduation day pictures over on our Instagram with the tag #MyLovisa.  
If you're searching for something special, visit our Premium Gifting and Gold-Plated Collections for more.